Ukraine Update: February 2023
With the war between Russia and Ukraine almost reaching a year, having started on February 24, 2022, there continue to be developments in the conflict including international support, attacks, and counterattacks by the Ukrainian armed forces. 
On January 25, 2023, President Biden announced that the U.S. would be sending 31 total M1 Abrams tanks, a full tank battalion, to support Ukrainian fighters. Biden claimed that "[Ukrainians] need to be able to counter Russia's evolving tactics and strategy on the battlefield in the very near term. They need to improve their ability to maneuver in open terrain. And, they need an enduring capability to deter and defend against Russian aggression over the long term," according to the United States Department of Defence. Given the fact that the tanks are some of the most advanced that the world has ever had, they are quite difficult to operate, and thus the U.S. also provided tools and maintenance equipment for the weapons, along with training for Ukrainian troops. This weapons delivery is being paid for by the U.S. through the Ukraine Security Assistance Initiative. To assist the tanks, Americans are also shipping eight M88 recovery vehicles to Ukrainians.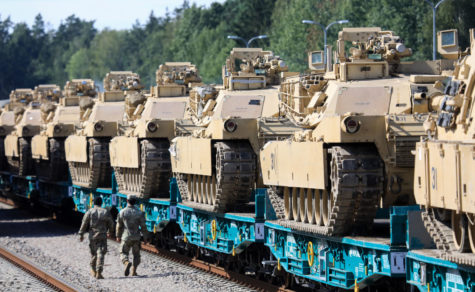 Coordinating with President Biden on weapons-delivering initiatives were other world leaders, especially NATO members, including UK Prime Minister Rishi Sunak, French President Emmanuel Macron, German Chancellor Olaf Scholz, and Italian Prime Minister Georgia Meloni. Some of these nations made pledges to deliver weapons of their own, including Leopard 2 tanks and a German Patriot missile battery from Germany, AMX -10 armored fighting vehicles from France, and Challenger 2 tanks from the UK. 
The United Kingdom pledged 14 tanks for the Ukrainians and resultantly invited groups of soldiers to the UK for specific training on the vehicles' functions. As stated in a Downing Street readout of a call between Sunak and Zelensky, both "agreed on the importance of UN partners once again demonstrating their solidarity with Ukraine," a significant step in increased international support. On top of the UK's commitments, France and Italy have jointly agreed to supply Ukraine with a SAMP/T-MAMBA air defense system, which can offensively and defensively target missiles and drones from Russia. Another NATO member, Portugal, agreed to send its own Leopard 2 tanks, although Prime Minister António Costa has yet to specify the number. The total number of tanks to be expected in the first batch from 12 different countries is between 120 and 140. 
In a European Union summit in Kyiv on Friday, February 3, 2023, the EU announced additional sanctions that are to be placed on Russia, as well as contemplating a Ukrainian bid for EU membership. The new sanctions would target Russian technology and trade, some of the primary places Russia is receiving war funds. Additionally, $27 million was pledged to Ukraine for the removal of mines and protection of citizens in areas Russian forces have been pushed out of. Maria Zakharova, the Russian foreign ministry spokesperson, claimed that attendees at the EU summit were attempting to weaken Russia, and said that the EU would be violating its own admittance standards if Ukraine was allowed to join. 
Currently, the front of the most interest in Ukraine is the eastern city of Bakhmut, at least according to Ukrainian President Volodymyr Zelensky, along with the nearby town of Soledar. Zelensky hopes to hold Bakhmut for as long as possible, hopefully with the help of international weapons reinforcements, pushing Russia out of the entire Donbas region. In terms of civilian impact, another city, Odessa, faced a power outage on Saturday, February 4, 2023, where almost half a million people were impacted by a failure of a high voltage substation damaged by Russian forces. While generators were delivered within 24 hours, along with a U.S.-funded gas turbine power plant, a 24-hour accessible emergency shelter is also being put in place for those needing it. This is not the first time that a power outage has happened in Odessa either, as a similar emergency shutdown was initiated on January 16, 2023.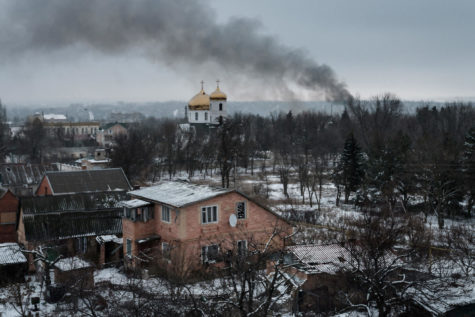 Outside of military combat and civilian conditions, a recent prisoner exchange occurred, as Russia returned 116 prisoners of war to Ukraine. Earlier reports said that 63 Russian prisoners of war had been returned as well through a "difficult negotiation process," as stated by Russian state media. The bodies of Christopher Parry and Andrew Bagshaw, British volunteers, were also returned to Ukraine. This more recent exchange represents a new pattern, as about a month earlier, on January 8th, 100 soldiers were involved in a similar prisoner swap.
On a slightly smaller scale, Pete Reed, a U.S. volunteer worker from New Jersey and U.S. Marine veteran was recently killed in Ukraine. It was while providing aid to Ukrainian civilians in Bakhmut, that Reed died, according to sources from his own founded initiative: Global Response Medicine. Phil Murphy, New Jersey's Governor, issued a statement regarding Reed's death, saying"His death serves as a devastating reminder of the catastrophic suffering that this unjustified war has caused. New Jersey will continue to stand on the side of the Ukrainian people in their valiant effort to fight back against Russia's brutal invasion. I can speak on behalf of our entire state to say that our hearts are heavy today,"  according to CNN. 
While the war wages on into the end of its first year, there is some hope for positive developments in the near future for the Ukrainian people, especially given the apparent increase in international support recently.