Top 3 Summer Tik Tok Food Trends
1. Cowboy Caviar.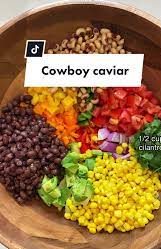 Cowboy caviar was originally a dish from Texas in the 1940s. It recently resurfaced on TikTok by Bria Lemirande, who received 12.5 million views on the video of her making it. This dip contains peppers, onions, tomatoes, beans, mangos or peaches, feta cheese, and a lemon/balsamic vinegar dressing. It has gotten very positive reviews from most who try it.
2. Healthy Coke
The healthy coke trend on TikTok blew up for being a healthy alternative to the soda, Coca-Cola. It is made of balsamic vinegar and any sparkling water. This trend has gotten very mixed reviews on TikTok. The majority say that it does not taste like coke.
3. Salmon Rice Bowl
The salmon rice bowl trend is a very simple dish that blew up on TikTok. The trend was founded by Emily Mariko who posted a video making the meal. It's made by putting leftover salmon and rice in the microwave with an ice cube and adding soy sauce, Kewpie mayo and sriracha. It can be eaten by wrapping dried seaweed around it.