College Basketball Update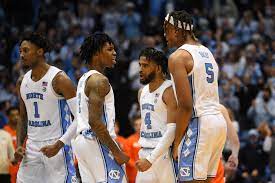 College basketball has been more competitive so far this year. After spending most of the season at #1 in the AP Top 25, North Carolina lost a tight game to unranked Iowa State in the Phil Knight Invitational. Houston, a team with several NBA prospects, has lived up to expectations with a 6-0 start to the season. #3 Kansas eeked out a win over unranked Wisconsin but lost the next day to #22 Tennessee. Even #2 Gonzaga isn't immune to the madness: the Bulldogs got blown out by #11 Texas early on in the season.
Usually, there are a few teams that stick out as clear favorites to make deep runs into the NCAA Tournament in March. In past years, Kentucky, Duke, and Kansas have dominated. But this year there don't seem to be any "untouchables". Top-ranked teams have lost several games this season, many of which were lost to unranked opponents. We have no idea who is a legitimate contender and who is not, but one thing is certain: the talent gap is closing, and it's going to make college basketball more entertaining than ever before.