Interview with Teen CEO and Founder of Calvagna Jewelry: Ben Arnoldussen
"You just have to go for it, and you just have to take that leap of faith."
Meet Ben Arnoldussen the founder, CEO, and creative jewelry designer of Calvagna Jewelry, a brand that emphasizes quality material and customization that makes every customer feel unique. Not only can Ben utilize his skills in jewelry-making to run a successful business, he can also combine his talents in marketing and photography to ensure that Calvagna reaches its fullest potential. 
Using only his mobile phone, he photographs his works of art in various settings: on the cloth of his homecoming outfit, sitting on silky material of his Vietnamese clothing, worn by his friends, perched on top of the pages of a book, and more. The result? Aesthetic snapshots of his chic products that he can promote on Instagram, where customers can DM or venmo customized commissions and buy his jewelry. Best yet, Ben started when he was only 15 years old, and has been managing a strong company for over a year.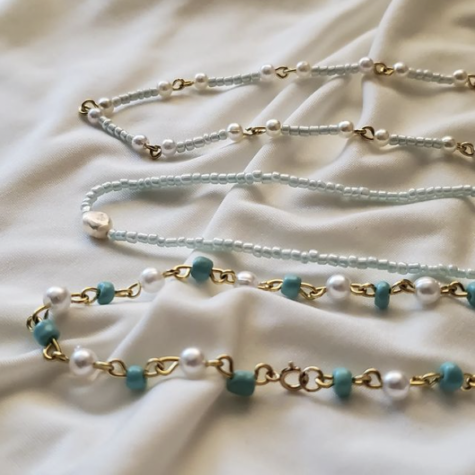 When and why did you start your business? 
I started my business during quarantine, mostly because I didn't really have a job or the money. Also I was just really bored and wanted to do something that felt worth my time and something that felt physically real that I had control over and actually get a good outcome.
What challenges have you faced along the way?
Some challenges that I have faced were legalizing my brand, which I am still in the midst of doing, finding the right documentation, paying taxes was really frustrating – I will have to say that lots of small businesses struggle with finding the credentials and the official parts of running a business.
What is the most rewarding part being a youth business owner? 
I think it's nice to tell people [about] and I also love that when you own the business you are in full control of it; you're in full control of where the money goes. I like to donate to causes that are important to me, as well as giving back to my home country Vietnam where I am adopted from. 
What's one piece of advice you would give to a teenager who wants to start their own business? 
I'd say you just have to go for it, and you just have to take that leap of faith. I didn't know where I was going with it, I saw a TikTok about this girl making lip glosses and I was like "Wait, she has her own business, that's super cool!" and now here I am today and I have thousands of dollars worth of my brand, so it could go anywhere.
Do you take inspiration from other business owners? If so, who?
I do! I take tremendous inspiration from a lot of artists like Jennifer Fisher, Elsa Peretti, and also from fashion. I think that art should be interpreted how we want it to be, so taking inspiration from a painting and turning it into a bracelet is my way of recreation. 
What steps did you take to get Calvagna up and running when you first started?
To get started, I looked on Amazon originally, but now I go on Etsy for suppliers and then I get the materials that I need, whether it be stones or diamonds or metals or wire to create the stuff I need, and then I did my website through 
Shopify. Shopify was a really big help because they have a membership subscription.
How did you learn to make jewelry and how does the process work?
Making the jewelry was kind of self taught. I pretty much just either Googled, YouTubed, or Tik-Toked my way through it and creativity came really easy to me; I've always been a super artistic, creative person so I kind of just made what I was creating and I figured on how to make it comfortable, how to make it look really nice, and [for] the business logistics of it, I I kind of just taught myself like stats and microeconomics essentially. I just read a ton and I just did what I could to legalize and to figure out how much to make, how much profit, all that business stuff.
What is the piece or type of piece of jewelry that you are most proud of?
I really like my rings – I wear my rings usually on a daily basis. They are made of a really good material that doesn't rust or tarnish, so I can wear them in the water, I can wear them when I'm sweating, or in a pool, or anything like that. I also like that I'm able to customize a lot of my stuff. A lot of people love my custom pieces because they can stamp dates or initials or names of what is important.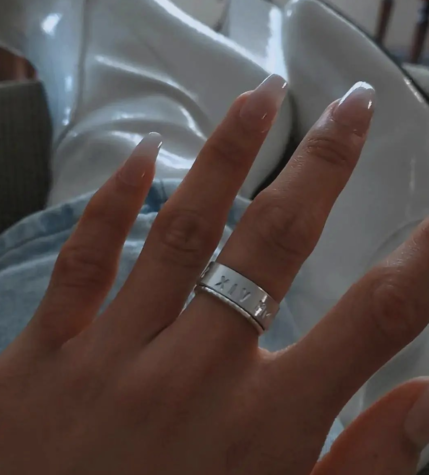 What goals do you have for Calvagna in the future? 
I really want to start working with finer metals like real gold and real silver, and I want to start creating engagement rings, which have always been really interesting to me. I have a couple of my own that I bought myself, and I just think that they're so fun and I think that they have such a nice story behind them for both the creator of the ring itself and also the person who wears it.
I'm definitely interested in turning my brand into a bigger brand, whether it be with actual employees or an actual store front, I have been looking into local Madison like arts and crafts stores who actually sell small business things in part to their shops. 
What is the most unique part about your business?
I think it's just really important that jewelry is not only sustainable but it also is personal, and I think you know everyone has a different story; I have a real unique story of my own, so I think being able to express that through something you wear or something you have on a day to day basis is nice, and it's nice to share with people where you come from, or what you're interested in, or what you have passion for.
What platforms do you use to promote your business?
Predominantly, I use Instagram – I've been really successful with Instagram. I also fiddled around with TikTok [which] is a really amazing way to internationally and nationally reach out to people who are interested in your work. Both Instagram and Tik Tok are really good ways to connect with other small businesses. DMs and hashtags are really amazing, and now that Instagram has a store front, you can actually buy things through Instagram, which I've been also looking into. Shopify and Etsy are also really amazing. 
What else would you like to add?
I just think that if you feel like you want to do something, like if you want to start your own business, if you want to feel like you want to be independent, you want to have control over your own money or your own income…Personally I only did it a little for the money, because I was a young 15 year old who didn't have a job, and only certain places are hiring 15 year olds, so it just was a way to express my creativity and the money just became a bonus.
Follow Calvagna on Instagram @calvagnajewelry