Classified Documents Found at Trump's Mar-a-Lago Estate
On August 8, 2022, a group of unarmed FBI agents entered former President Trump's Mar-a-Lago resort home in Palm Beach, Florida as part of a Justice Department probe. Previously, 15 boxes of records from the White House, including classified documents, were found at the same resort, rather than being returned to the National Archives as intended. 
The Department of Justice filed an inventory of the items that were removed from Mar-A-Lago in the U.S. District Court for the Southern District of Florida. This included over 10,000 government documents, of which, more than 100 were considered classified, or even highly classified. Additionally, 48 empty folders labeled classified were found, all but 7 of which were found in President Trump's office. A second set of 42 folders labeled "Return to Staff Secretary/Military Aide" were also found empty at the resort. The DOJ also wrote, "the government also developed evidence that government records were likely concealed in the Storage Room and that efforts were likely taken to obstruct the government's investigation." 
This August 8th investigation follows previous searches and subpoenas for these materials. In July, agents visited Mar-a-Lago in search of documents that had yet to be returned to the National Archives, at which time, Trump met with the agents, accomp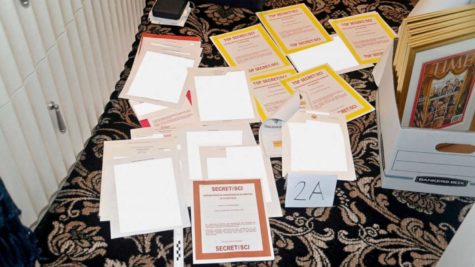 anied by two of his lawyers. Additionally, Trump complied with a subpoena for security footage of the resort from the end of June. 
After finding out about, as he put it, the "raid," President Trump was upset, having been in Bedminster, New Jersey at the time. Shortly thereafter, Trump issued a statement about the event, as he said, "It is prosecutorial misconduct, the weaponization of the Justice System, and an attack by Radical Left Democrats who desperately don't want me to run for President in 2024." Despite claims that his home was "under siege" in Trump's response, the investigation was legal, as a search warrant of the property was provided to, and verified by, Secret Service agents on-site. 
Trump now faces a few possible charges for this investigation into the documents at Mar-a-Lago. These include the concealment, mutilation, or destruction of records, obstruction of justice, or even violations of the Espionage Act. In an appeal to the judge presiding over the case, Judge Aileen Cannon, Trump successfully requested an independent arbiter, or special master, in Judge Raymond Dearie. This special master is intended to make sure that documents are reviewed properly and that court protocols are followed given the important nature of the case. This move to appoint a special master was opposed by the DOJ but still was approved by Judge Cannon. Also, the judge restricted the Justice Department from using seized classified records, although eventually, an appeals court ruled for returned access.