Biden Calls out MAGA Republicans During Labor Day Trips to Swing States
On Monday, September 5, 2022, Labor Day, President Biden visited two swing states, Pennsylvania and Wisconsin, to speak about the upcoming midterm elections and his campaign for the 2024 presidential election. Not only do these battleground states represent contested electoral votes in 2024, but they are also expected to have close gubernatorial elections and Senate races on Tuesday, November 8, this year. 
Biden traveled first to Milwaukee, Wisconsin, where he addressed union workers in a city park. While emphasizing that not all Republicans are, in his opinion, as radical as MAGA (Make America Great Again) Republicans, Biden took aim at this group for a large portion of his speech. Along with this, he provided some intended words of encouragement for the future as well, stating, "But the extreme MAGA Republicans in Congress have chosen to go backwards, full of anger, violence, hate and division. But together we can and we must choose a different path forward."
In addition to denouncing MAGA Republicans, President Biden also commented on upcoming elections in Wisconsin, especially the Senate race, where Republican incumbent Ron Johnson will be up against Democrat Mandela Barnes in November. Biden criticized Johnson for not only his involvement, or supposed lack thereof, in the events of the January 6, 2021 insurrection in Washington D.C., but also for his voting against a Democrat-led bill intended to lower prescription drug prices. Although Mandela Barnes was not at the event to speak, current Wisconsin Governor, Tony Evers, was, as he is currently involved in the gubernatorial race against Trump-backed Candidate, Tim Michels. Evers supported the president's message, telling the crowd that, "We have a president who understands the challenges facing working families," a campaign message that Biden has been pushing.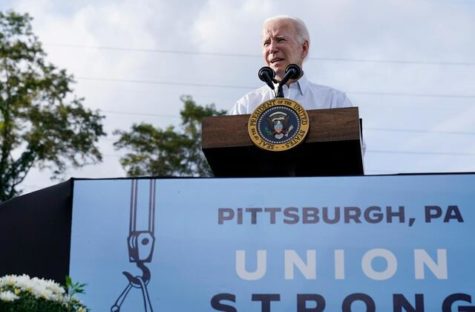 Following this brief visit to our own state, President Biden traveled back to the East Coast, where he spoke to the Steelworkers of America Local Union 2227 in Pittsburgh, Pennsylvania. This was somewhat of a surprise considering that he had spoken just a few days before at Independence Hall in Philadelphia on September first. However, the need was felt to rebuke President Trump's comments, as in a rally in Wilkes-Barre, Pennsylvania on September 3, 2022, the former president accused Biden of being "an enemy of the state." In the Keystone State, President Biden had similar remarks on MAGA Republicans as he had in Wisconsin, while also mentioning President Trump's claims that the 2020 presidential election was rigged. Opposite from Wisconsin, Biden was greeted in Pennsylvania by the Lieutenant Governor Candidate, John Fetterman, who not only took photos with the President but also spoke before Biden.
Despite the President's successful appeal to labor unions, which helped him to win the position in 2020, there was some pushback to his messages, both from politicians and union members alike, especially from his primary opponent, President Trump. However, Biden still has some overall support from Union leaders, such as Mary Kay Henry, the president of the Service Employees International Union, who said that working people need to "mobilize in battlegrounds across the country to ensure that working people turn out." Although the presidential election is over two years away, early campaign efforts are starting up, especially with a currently tense political climate.