Stay in Tune with a Plethora of International Violin Competitions
Ava Kenney, Arts & Entertainment Editor
October 12, 2022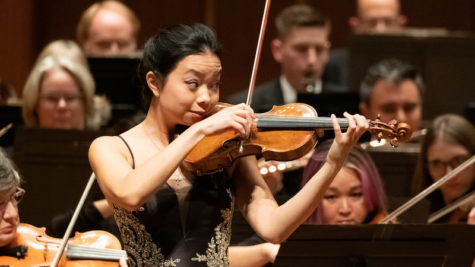 We are amidst a prime seasons for major International Violin Competitions, where young rising-virtuoso musicians travel from all over the world to compete for generous prizes, instrument loans, and career-launching performance opportunities. After being selected from a highly competitive pool of video applicants, these musicians perform a rigorous program of repertoire in hopes of advancing to the next of multiple rounds. As a musician, watching these extraordinary performers is an incredible opportunity, a gold mine even, to scavenge out new ideas or techniques and challenge yourself to a new level of musicianship. Even for those not classically-trained in music, experiencing the musical depth and and fiery exuberance within the intensity of competition can be equally as inspiring. Thanks to all the doors technology has opened for us in the past few years, these competitions have been livestreamed and archived on a variety of platforms so anyone can take a moment to listen!
One of the most prestigious U.S. based competitions, The Indianapolis International Violin Competition, took place over a two weeks mid-September. Through the rigorous four live rounds of the competition, 40 violinists aged 17-29 performed marathon programs ranging from show-pieces to sonatas, leaving only six competitors advancing to the final rounds with orchestra accompaniment. Collaborating with the East Coast Chamber Orchestra and Indianapolis Symphony Orchestra, each finalist delivered breath-taking performances of full Mozart and Romantic-Era concertos. Miraculously, even after competitor Sirena Huang lost partial hearing due to Covid-recovery, she performed an absolutely astonishing Dvorak Concerto and won the Gold Prize. Likewise, Julian Rhee was awarded Silver Prize and Minami Yoshida was named the third-place Metalist. All of the rounds of this competition were archived on The Indianapolis website.
The International Fritz Kreisler Violin Competition, named after the great 20th century violinist Fritz Kreisler, was also held this past September in Vienna, Austria. Similar to The Indianapolis, this competition progressed through four rounds, culminating in a final round alongside the Vienna Radio Symphony Orchestra. The three finalists, Michael Shaham from Israel, Rino Yoshimoto from Japan, and Guido Felipe Sant'Anna e Silva from Brazil, performed concertos by Sibelius, Wieniawski, and Brahms. At the young age of 17, Guido was awarded first prize and will have opportunities to tour internationally for performance engagements and collaborate with NAXOS to record a professional CD album.
Finally, the 16th International Henryk Wieniawski Violin Competition is currently underway in Poland. As this competition was dedicated to the violinist and composer Henryk Wieniawski, competitors are required to perform numerous of his works, along with other standard sonatas and virtuoso works. Throughout the next week, stage two and three of the competition will showcase the remaining fifteen candidates in performances livestreamed through The Violin Channel. If you have a chance, tune into the livestream throughout the day to hear a variety of exciting performances!