Wedding Season: A Recent Addition to Netflix's Rom-Com Fame
Approaching the end of the summer, Netflix released a slew of TV shows and movies. Wedding Season, a film about the complexity of arranged marriage, follows two Indian Americans, Asha and Ravi as they navigate the pressures of an arranged marriage while attending many, many weddings and learning more about their individual selves.
While this movie may seem like your everyday rom-com, Wedding Season contains many references to South Asian culture in a modern setting, and living with South Asian roots in America. South Asians continue to be stereotyped and misrepresented in many shows and movies. Instead of a focus on the rich culture that makes up the region, stereotypes have overwhelmed the audience's perception of South Asians. However, this movie, written by Shiwani Srivastava, and starring actors with roots in India, Bangladesh, Pakistan, and more, has represented the story and screenplay in a testament to the cultures portrayed. 
The music in this movie also does not disappoint. With the score composed by Raashi Kulkarni, a female composer with an Indian background, the music manages to match the energy of the movie. Additionally, the film features songs by Indian artists such as Tamil singer Priya Ragu and Telugu rapper Raja Kumari. As a whole, the music and the movie complement each other in a perfect manner. 
Unfortunately, the movie isn't perfect. Even while representing South Asian cultures, some scenes were exaggerated and fell back into some generalizations. Though some of these scenes added to the humor, others misportrayed interactions amongst Indian communities. In addition, the movie defaulted to some familiar rom-com tropes, with insta-love and both the leads already leading rich, successful lives. 
But overall, with witty one-liners and sweet scenes, this movie does not fail to entertain. If you're looking for some light-hearted relief, this movie is a perfect choice. 
Leave a Comment
Your donation will support the student journalists of Vel Phillips Memorial. Your contribution will allow us to cover our annual website hosting costs, domain management, and unlimited technical support for scholastic journalism programs.
..
About the Contributor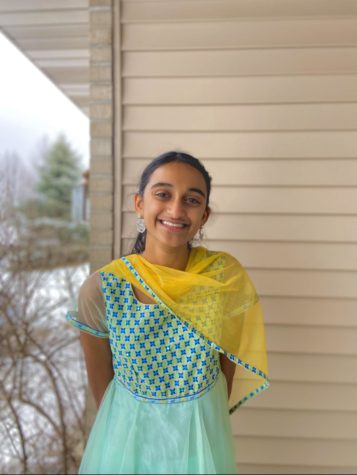 Anvika Annyapu, Editor-in-Chief of Organization
Anvika Annyapu (s/h/h) is a senior and has been a part of Sword & Shield for four years. In Sword & Shield, she emphasizes the reporting of unbiased...