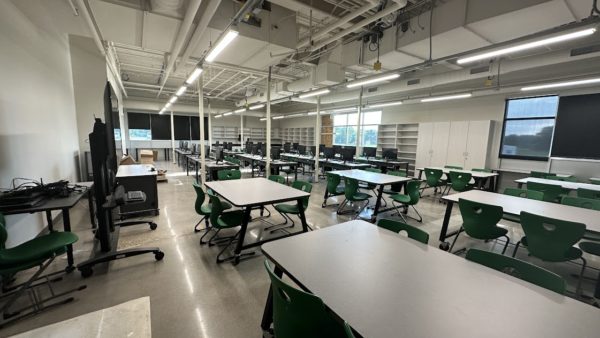 With Vel Phillips Memorial High School pushing the boundaries on the amount of construction happening both in and out of the school, one of the most astonishing changes is happening at the back of the school, rather than in front. With most of the upgrades, renovations, and edits the school has been making to its hallways, classrooms, and sports facilities, the art wing is one of the most newly renovated and best of what is yet to come. 
     The new art wing is made up of big, white hallways, with echoing ceilings and spacious windows over 6 feet tall and 7 feet wide. The windows look out on the green fields behind Memorial High School, the soccer fields, and the tennis courts. The new rooms are spacious and offer sinks, shelves, and supplies needed for the various classes, which will hold Arts, Metals & Glass, Pottery, Drawing, Painting, Fashion Design, and Animation. 
     Many students are very excited to use the new space, especially considering that the art wing was not a very well-funded area in the past. With these new spaces, opportunities, and supplies, it'll be interesting to see what art VPM students create this year!