On July 21, 2023, Barbenheimer rocked the world for the first time as crowds of moviegoers swarmed theaters for the optimal viewing experience, duly promised by this popular portmanteau. The joint release of "Barbie" and "Oppenheimer" prompted a revival at the summer box office: "Barbie", directed by Greta Gerwig, brought in over $1.1 billion globally and became the highest-grossing movie by a female director in the US, as well as the highest-grossing live-action movie by a female director internationally, while "Oppenheimer" added on to Christopher Nolan's impressive collection of films with nearly $650 million.
"Barbie" stars Margot Robbie as Barbie, Mattel's famous doll, and Ryan Gosling as Ken, Barbie's faithful companion. The movie follows Barbie on an adventure to the real world, where patriarchy shatters her dreams and causes Ken to deeply ponder his role in Barbie Land. A Ken uprising is countered by the cunning wit of the Barbies and a bit of help from the real world, in the form of a mother and daughter who travel to Barbie Land. The film has feminist roots and shines a crucial light on mother-daughter relationships in adolescence.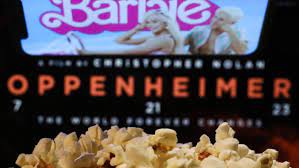 "Oppenheimer", on the other hand, portrays the life of J. Robert Oppenheimer, played by Cillian Murphy in a star-studded cast. The three-hour-long film follows Oppenheimer's life, putting an emphasis on his role as leader of the Manhattan Project, a project conducted by the United States during WW2 with the goal of developing the first atomic bomb. The film also explores Oppenheimer's personal life, including his moral outlook on the creation of the bomb, his relationships, and later accusations of communism and sharing intelligence with Russia. A somewhat darker experience when contrasted with "Barbie", the film explores themes of mortality and leaves viewers questioning the fate of humanity.
The full-on Barbenheimer experience has been coined as watching both movies in one day, either consecutively (one immediately after the other) or with some time in between – maybe for lunch, as a CNN article recommends. Fans have embraced the craze, and many Oppenheimer screenings have been reported to be full of pink-wearing enthusiasts. The duality of the experience doesn't seem to be a coincidence, as counterprogramming, in this case releasing two "opposite" movies on the same date, has proven to be an effective marketing strategy in the past. Another explanation for the shared release date comes from Christopher Nolan's conflict with Warner Bros., which began when their parent company, Warner Media, announced that it would release all 17 of its 2021 movies on HBO Max – their streaming service – rather than in theaters. After public outrage at this decision, Nolan took meetings with rival studios and announced he would release "Oppenheimer" with Universal Pictures, which announced July 21, 2023, as the release date. Warner Bros had another movie, "Coyote vs. Acme" scheduled to come out on that same day, but changed it to "Barbie" in April 2022, pitting the two against each other directly. In addition to this conflict, Barbenheimer has been controversial in Japan where it has sparked Twitter (X) outrage over the insensitivity of Barbenheimer memes being used as promotion for the domestic release of "Barbie" on August 11. "Oppenheimer" has not been released in Japan and has no scheduled release date.
Despite any controversy, we can agree that Barbenheimer has taken the world by storm and has been a distinguishing marker of the summer of 2023. Both films, though distinctly different, leave viewers with something to ponder and give a glimpse through the lens of our current society.