Paul O'Grady: British TV Personality Dies at 67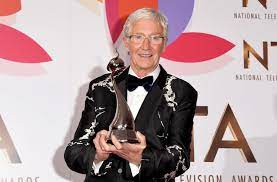 DISCLAIMER: THIS ARTICLE IS SATIRE AND IS MEANT FOR ENTERTAINMENT PURPOSES ONLY, ALTHOUGH IT IS TRUE.
On Tuesday, March 28, 2023, Paul O'Grady, a famed comedian and television presenter passed away "unexpectedly but peacefully," according to his husband Andre Portiasio in a statement to BBC. 
Born in Birkenhead on the Wirral, Merseyside, back in 1955, O'Grady had a mother with the maiden name of Savage. Starting in the 1970s, O'Grady began performing in drag as Lily Savage, potentially after his mother, in a solo show at London's Royal Vauxhall Tavern, using such a platform to emphasize LGBTQ+ issues. Using his slight fame from such an act, he began the Lily Savage Show for BBC in 1997.
Initially gaining popularity in the 1990s, O'Grady presented on the BBC One game show Blankety Blank along with other programs, often in his drag persona. Throughout the rest of his career, he also hosted several chat shows, and most recently had played Miss Hannigan in the hit musical Annie, representing an extremely diverse range of talents and entertainment skills. O'Grady loved what he did, as on Instagram regarding the Annie performance, O'Grady claimed that he had "thoroughly enjoyed" playing Miss Hannigan, ", especially with a truly amazing and lovely cast." However, such a career was not without issues, as in August of 2022, he left his position presenting weekly on the BBC Radio 2 show because he disliked the fact that BBC forced him to share a slot on Sunday afternoons. Yet, one of his most popular appearances was when, in 2022, he appeared on an episode of For the Love of Dogs with the Queen Consort Camilla. The show was also founded by O'Grady a decade prior and helped to follow the staff of Battersea Dogs and Cats home, which he had worked for prior. Another popular program was the Paul O'Grady Show on ITV between 2004 and 2005, which moved to Channel 4 from 2006 to 2009, and was revived for two years in 2013 on ITV.
O'Grady was adored by many celebrities following his passing, as they admired his works and mourned his death. On BBC Radio 4, Carol Vorderman raved that "he just fizzed, he was one of those people that made you feel every part of you was alive. He exploded through the daft, made-up rules of society. He was a massive talent, but you can't forget he was a social worker when he was younger, he saved babies and young children from abuse, he lived in Soho before it was gentrified, he never judged the vulnerable, the weak, the misunderstood." Others included Ken Bruce, a former BBC Radio 2 broadcaster, who wrote that it was "such shocking sad news about Paul O'Grady. A unique and brilliant broadcaster who brightened the nation." 
While such a loss is shocking and abrupt, it is not exactly unexpected. In 2013, the Paul O'Grady show frequently had guest hosts, as health concerns made O'Grady take a backstage. This was following heart attacks in both 2002 and 2006. Yet, it is still a major loss due to the variety of different awards received by O'Grady. This includes the TV Bafta, British Comedy Award, along with The Paul O'Grady Show receiving a National Television Award.