Get to Know Mr. Jacoby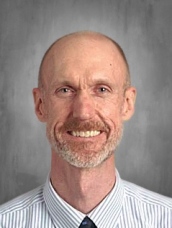 This month I had the opportunity to interview one of the newer members of the Memorial community. Mr. Jacoby joined our school this year and teaches General Physics and AP Physics. Mr. Jacoby is well-known among students for his expertise and enthusiasm for teaching.
Why did you want to become a teacher? I see teaching as a way to share what I have learned and prepare young people to contribute to the world. Being scientifically literate in our technological age is essential for everyone so we can make good collective decisions and be informed participants in our democracy. It is also exciting to understand how the world works! I have always enjoyed school and learning. Teaching is a vocation where I can pay forward the opportunities I had to learn and be supported by educators.
What led you to study physics in college? I blame it on public television. In sixth grade I watched a Nova documentary on particle physics and how matter is made of quarks – particles even more fundamental than protons and neutrons. I am fascinated that the natural world can be understood in fundamental, universal terms with mathematical laws. I stuck with that idea all the way into college. I even got to work on the Collider Detector at Fermilab particle physics experiment. However, I decided I didn't love it enough to go to graduate school in physics.
What do you do in your free time? I enjoy hiking on local trails and visiting parks and playgrounds. On the weekend, I might check out an event at my church.
What's something students probably don't know about you? I once got a (small) tattoo and dyed my hair pink.
What Hogwarts house would you belong to? Ravenclaw. Isn't it obvious?
What music do you listen to? Lots of Raffi and Music Together children's CDs on the commute to daycare. I appreciate a variety of music: classical, jazz, ambient space music, house, and electronica. One of the things I miss about living in southern California is the public radio station KCRW which played an eclectic mix of music. I can stream it online, but it's somehow not the same. And I have less time to listen to music of my choice than I do now.
Who's your favorite scientist? Stephen Hawking. I had the opportunity to hear him speak at Caltech once.
If you weren't teaching physics, what would you be doing? I would be working with science teachers on improving their practice – what I was doing in Washington, DC before I moved to Madison. I also think it would be fun to work for a charitable foundation and give away money to support education initiatives.
If you could travel anywhere in the world, where would you go? New Zealand is on my bucket list. The landscapes are amazing and might be home to hobbits, elves, and dwarves. The travel time is long. Not something to do with small children.
If you could give one piece of advice to students, what would it be? Don't pass by opportunities to learn something new. Whether it's technical training on new software or equipment offered by an employer, a local presentation or lecture on a topic of interest, or a formal certificate or degree – make the time to learn. At times in my life I felt I was too busy with other priorities to continue learning, and later I regretted not having the skills and knowledge that I turned down.