Biden Makes Surprise Covert Trip to Ukraine
On Monday,
February 20, 2023, President Biden visited Kyiv to discuss the ongoing war with Ukrainian President Volodymyr Zelensky, representing the first time Biden has visited Ukraine since said war started in early 2022. 
Biden's trip to Ukraine was top secret due to high concerns about the President's security. As Air Force One left the U.S. at 4:15 a.m. on Sunday morning, none of the reporters along for the journey could have any sort of device, reflecting the worries about safety. Prior to the journey, Biden's public schedule and White House officials had said that Biden was not going to Ukraine, and it was later revealed that Biden privately decided with his national security head to make the trip. Russia was only informed of these plans a few hours before departure, as Biden was headed to Kyiv for "deconfliction purposes." While Biden only expressed worries about safety in terms of how his visit could potentially harm others, officials were worried about Biden's own personal safety, and thus took months to plan the excursion. Planning included input from the chief of staff, the National Security Council, the White House Military Office, and the Secret Service. In Kyiv, Biden also had several other officials with him, including Jake Sullivan, the national security adviser; Jen O'Malley Dillon, the deputy chief of staff; and Annie Tomasini, a personal aide. 
Part of the reason behind Biden's visit is that some of the President's international counterparts have made similar visits to Kyiv in the past year. This list includes German Chancellor Olaf Scholz, Canadian Prime Minister Justin Trudeau, French President Emmanuel Macron, former British Prime Minister Boris Johnson, and the new British Prime Minister Rishi Sunak. Biden also followed in the wake of other U.S. officials including Secretary of State Antony Blinken, CIA Director Bill Burns, and U.S. Defense Secretary Lloyd Austin. Having been in Kyiv prior to the war, Biden claimed that "each time is more significant," but this time the U.S. is "here to stay," as the President hopes to lend support to the Ukrainian people.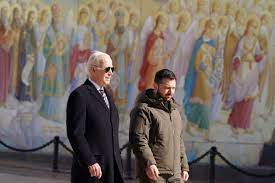 Not only was Biden's trip to Ukraine important for him politically, but it was also quite symbolic. When Biden arrived at 8:00 a.m. on February 20, he preceded a speech planned by Russian President Putin on the war's anniversary, as Biden responded by saying that Putin's "war of conquest is falling."  A highlight of his trip, Biden also took a walk around St. Michael's Cathedral with Zelensky, discussing the expected offensive action from Russia in spring while Ukraine also hopes to respond by making up lost ground. 
In standing with Zelensky, Biden represented bipartisan support in the U.S. for Ukraine, expressing that it is not only about Ukrainian freedom, but also democracy. According to national security advisor Sullivan in an article by CNN, "The President was very focused on making sure that he made the most of his time on the ground, which he knew was going to be limited. So he was quite focused on how he was going to approach his conversation with President Zelensky and in part how the two of them were really going to look over the course of 2023 and try to come to a common understanding of what the objectives are." While White House security has been relatively uncommunicative about what was all discussed, it is clear that Biden hoped to strategize regarding the coming months of the war. 
In general, Biden wanted his visit to publicly mark U.S. support for Ukraine during the war. Even though no troops have been committed to the effort, Bidend did announce further supplies and actions on behalf of the Ukrainian government. This includes military equipment, including artillery ammunition, javelins, and howitzers, along with economic sanctions on Russia for the war.
In addition to his visible support of Ukraine, Biden also has privately worried about increasing Chinese support for Russian aggression. While officials would not describe specifics, evidence has recently suggested that China hopes to "creep up to the line" by providing funds, weapons, and aid to Putin without other nations realizing it. Secretary of State Blinken expressed similar concerns when discussing such issues with Wang Yi, China's foreign policy advisor, who recently discussed "international and regional hotspot issues of shared interest" with Putin in Moscow. Essentially, China is hoping to become more involved, even if indirectly, with the war in Ukraine on the Russian side. 
To conclude his trip, Biden issued a final word highlighting the U.S. position on Ukraine: "one year later, Kyiv stands. And Ukraine stands. Democracy stands." While it is unclear what type of terms Zelensky and Ukraine will accept when it comes to peace with Russia, Biden has expressed interest in continued U.S. support for whatever efforts are needed in the future.