Hogwarts Legacy: A Controversial Yet Captivating 2023 Game
A video game crafted on the basis of the beloved Harry Potter world, Hogwarts Legacy has now dethroned last year's Game of the Year Elden Ring in launch sales and is on track to becoming a strong GOTY award contender. While the promising sales are a sign of massive success for video game creators Portkey Games, even before its launch, the game has met heavy controversy connected to a series of past transphobic comments by Harry Potter author J.K. Rowling.
Hogwarts Legacy also beat the franchise's previous launch sales record set by the video game adaptation of Harry Potter and the Sorcerer's Stone in 2001. As it continues to smash records in the UK game charts, it has also surged into the top four best-selling games of 2023 on Steam. More importantly, since digital copies of the game are unaccounted for in total sales, the total sales will likely be even higher by the end of the year. 
Recently, Hogwarts Legacy took over Twitch streams as well, recording a major viewing milestone on the streaming service. Indeed, whether it be the visuals and graphic details while flying on a broomstick across the meadows, castle walls, and Hagrid's Hut, or the action-packed sequences in dueling with fellow wizards, streamers and viewers alike were mesmerized by a one-of-a-kind experience.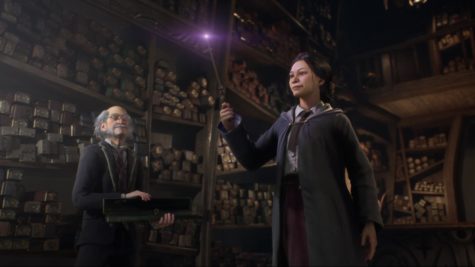 Despite the massive success that has been enjoyed by Warner Bros Game Co., excitement has been tarnished for a handful of fans due to J.K. Rowling's transphobic remarks regarding transgender bathrooms. As Rowling received strong backlash from the LGBTQ+ community and supporters, some resorted to the idea of banning Hogwarts Legacy, including Twitch streamer Nikatine, who started a boycott of Hogwarts Legacy by refusing to stream unless the game's ad campaign halted.
Nevertheless, the controversy surrounding the game has had very little effect on lowering sales, which brings us to the next point of contention: Should Hogwarts Legacy be banned in the first place?
While Rowling's comments were in no way acceptable, her comments should not be attributed to the game for several reasons, one being that she was never involved with the creation of the game itself. Further, Hogwarts Legacy developers also stated that they "know that's a diverse audience" and that their top priority was to "[make] sure that the audience, who always dreamed of having this game, had the opportunity to feel welcomed back." 
And although critics call for a complete boycott because Rowling does, in fact, earn a piece of royalties from game sales, there is a final reason why Hogwarts Legacy should not be boycotted: the game itself exhibits no transphobia whatsoever because it was created for gamers to fall in love with the Wizarding World of their childhood.