Israeli Protests Against the Proposed Government Reforms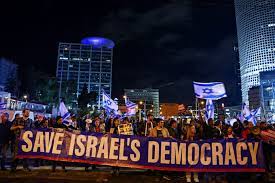 Protests have broken out in cities all over Israel and the United States over the new laws proposed by Israel's right wing government. Israeli Justice Minister Yariv Levin proposed a law that says that the parliament can pass a law even if the Supreme Court denies it. Another new law was proposed that would change the body of people that appoint the judges in Israel. These new laws would severely weaken the Supreme Court. Critics of the new laws say that it would destroy their system of checks and balances and undermine their democracy. Some people speculate that the new laws are being passed to help pave the way for Prime Minister Benjamin Netanyahu to be pardoned, as he is currently facing a trial, accused of fraud, breach of trust, and corruption.
The people are also protesting the treatment of Palestinians. January 26th-28th was a time of intense conflict. On Thursday, January 26th, nine Palestinians were killed and many injured after an Israeli military operation. After this, the Palestinian Islamic Jihad, a paramilitary and terrorist group, sent rockets into Israel which were eventually shot down by Israel's defense system. Then Israel sent air attacks on targets in Gaza that are used by the groups like Hamas and Islamic Jihad. Next, on Friday, January 27th, seven people were killed in an attack on a synagogue in East Jerusalem. Then, on Saturday, January 28th, a thirteen year old shot and killed two Israelis, again in East Jerusalem.
In Israel, 10,000 people gathered in Jerusalem, Tel Aviv, and Haifa for the fourth week of protests. There were also rallies in New York City, Boston, Chicago, Miami, Seattle, Los Angeles, Toronto, and Vancouver.