Biden Visits US-Mexico Border Amid Controversy Over Immigration Policies
President Joe Biden traveled to the US-Mexico border in El Paso for the first time since taking office, ahead of a Mexico City summit. The visit also comes after Biden announced a new immigration policy to restrict the record number of migrants who have crossed the border. But why are migrants crossing at such an unprecedented rate?
In fiscal 2022, over 2.2 million migrants were arrested near the border; however, many of those arrested migrants were expelled back under the immigration program Title 42, first implemented under former President Donald Trump. Initially created in the 1940s, Title 42 officially authorized the government to take emergency action "to stop the introduction of communicable diseases" for the health and social welfare of the nation, and it was predominantly used in March 2020 during the Trump administration to control border crossings to fit COVID-19 precautions. 
What makes this program so controversial is that Title 42 essentially disallows immigration law that permits migrants who illegally crossed the border to seek asylum and instead sends them back to their home countries. In fact, after Mexico agreed to accept expulsions of its own migrants and those of other Central American countries such as Guatemala, Honduras, and El Salvador, a substantial number of illegal migrants were sent back. 
The Biden administration received backlash and criticism after announcing that Cubans, Haitians, and Nicaraguans would also be expelled under Title 42, which essentially expands the controversial program Biden pledged to end before taking office.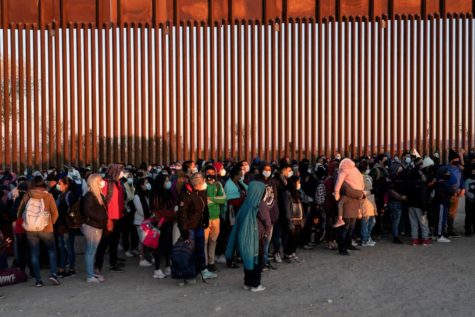 The surge of migrants is also caused by increased recidivism — people who attempt to cross the border and try again to cross after getting expelled back to their home country. Because crossing the border illegally does not affect future applications for immigration under Title 42, people are not deterred in the slightest from rushing back to the border, even if they cannot legally seek asylum.
Border officials who have taken notice of the sheer desperation within the lines of migrants seeking help and protection have called on the government to draft a new immigration policy that effectively addresses how they can take in migrants seeking asylum to care for them and provide humanitarian assistance through improved facilities built to shelter families.
Biden hasn't completely turned a blind eye to repealing Title 42; his administration has made several attempts since he took office to do so, but Congress has yet to release a verdict on this issue. Congress' indecision doesn't come as a surprise, as lawmakers have failed to strike such an agreement on immigration reform for years. Still, the Biden administration has left the public in the dark on how it plans to fix a broken immigration system.