Deadly Earthquakes Strike Indonesia
On Monday, November 21, 2022, a magnitude 5.6 earthquake hit Indonesia in the Cianjur region of West Java, causing excessive damage, death, and injury in the area. This tragedy was then followed by a later earthquake, occurring on December 3, 2022, with a 6.1 magnitude earthquake again hitting the island of Java. 
The earlier quake, which happened around 1:21 p.m. local time, occurred at a depth of around 6.2 miles (10 kilometers), which resulted in building collapse, especially dangerous considering the high population density of the region. According to the National Agency for Disaster Management (BNPB) for Indonesia, over 1,000 people were initially injured, along with 268 dead based on analysis the Tuesday following. In addition to physical harm, over 58,000 people were displaced from their homes, as over 22,000 places of residence were demolished by the natural disaster. The final death toll was eventually 334 people, as it was at first difficult for responders to immediately help trapped individuals. 
One particularly important part of Indonesia that was affected by this initial earthquake was the school system. With the initial shock, many school buildings collapsed with classes still in session, creating dangerous situations for the children inside or nearby. Ridwan Kamil, West Java's governor, said that many of the incidents of death had occurred within Islamic schools and that many of the deceased already were children, even on the day of the earthquake. The impact was had on 50 regional schools in at least some capacity, including traumatic experiences for students and teachers alike, as educator Mia Saharosa revealed that "We all gathered in the field, children were terrified and cried, worried about their families at home. We hug each other, strengthen each other, and continue to pray," in regards to the response during the earthquake. A total of 31 schools, 124 religious locations, and three healthcare facilities were badly damaged, along with many other buildings.  
Landslides were also a danger, according to the Bureau of Meteorology in Indonesia, with 25 aftershocks within two hours of the initial earthquake. Even without landslides, the damage was still widespread, with many buildings reduced to rubble. Fortunately, the day following the initial earthquake, Indonesian President Joko Widodo had already agreed to pay $3,200 to damaged house owners. While this isn't nearly enough to completely fix the damage, it does represent a federal effort to support the population and infrastructure.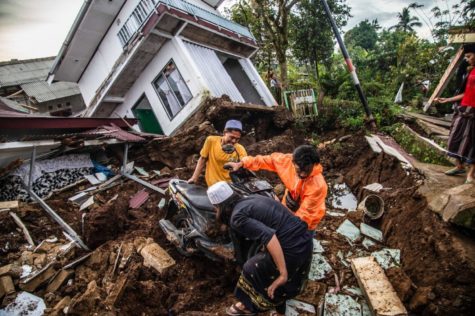 Less than two weeks later, a second earthquake struck West Java, this time, being of magnitude 6.1 on December 3, 2022. However, the earthquake was entirely located on land, meaning there was no possibility of a tsunami, and it was quite deep, meaning that minimal damage was caused. While only one injury occurred, in the town of Garut, four houses and a school were damaged slightly, all of which is minimal compared to the previous quake. Major-General Suharyanto of BNPB has requested that residents stay calm, issuing a statement saying "In response to the earthquake that happened earlier, once again, remain calm, alert but there is no need to stop your daily activities." 
Although certainly tragedies, both of these earthquakes were somewhat expected, considering that Indonesia sits within the "Ring of Fire," an extremely seismically active region of the Pacific Ocean that stretches from Japan and Indonesia to California and South America. A similar earthquake to Indonesia's 5.6 magnitude quake occurred several years ago, with a 9.1 magnitude quake off Sumatra island killing 226,000 people total, although not all were Indonesian. 
Now, Indonesia is focusing on rebuilding, accounting for still missing individuals, and healing injuries with government support. After initial tents, shelters, and other aid, the government is encouraging and helping with the construction of earthquake-resistant infrastructure, hopefully preventing such tragedies from occurring to such a degree in the future.