Thanksgiving Recipes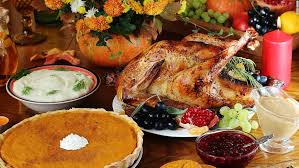 When it comes to cooking Thanksgiving dinner, there are many preferences, allergies, and opinions to factor in. Something that can be an enjoyable experience can turn into something stressful and filled with many dirty dishes. To make cooking Thanksgiving dinner a little easier and hopefully more enjoyable, here are a few links to easy and good recipes.
https://tastesbetterfromscratch.com/easy-no-fuss-thanksgiving-turkey/  -The Turkey
https://www.spendwithpennies.com/easy-stuffing-recipe/   -The Stuffing
https://www.allrecipes.com/recipe/9111/cranberry-sauce/   -The Cranberries
https://www.pillsbury.com/recipes/easiest-ever-pumpkin-pie/5793eb83-dca1-45e0-96e1-7f73af9e282f  -The Pumpkin Pie
https://www.theseasonedmom.com/moms-easy-apple-pie/  -The Apple Pie
If you or a family member have any allergies or are vegan here are some alternative recipes.
https://minimalistbaker.com/simple-vegan-stuffing/  -The Stuffing
https://www.noracooks.com/vegan-pumpkin-pie/  -The Pumpkin Pie
https://tasty.co/recipe/vegan-apple-pie  -The Apple Pie
Whether your Thanksgiving is big or small, celebrated with friends or family, make sure to tell people you love that you're grateful for them and you love them. Enjoy your time off Spartans!