California Wildfires Burn With Dry Climate Conditions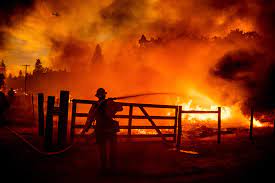 Wildfires in California and the Western United States are a common occurrence, especially over the summer and fall months, but 2022 has already been a particularly dangerous year, with several large fires burning large areas of land in the Golden State. Nationally, nearly 5.9 million acres have burned by over 40,000 wildfires between January 1, and August 8, 2022, according to reports by the National Interagency Fire Center (NIFC). 
While some of these blazes are small, with some burning under one hundred acres, larger fires, such as the McKinley fire, have arisen during this season. As of August 9, 2022, McKinley had already burned more than 60,271 acres of the Klamath National Forest in Siskiyou County, California. The McKinley fire, starting July 29, 2022, was underestimated by firefighters as it was initially being contained, but the combination of dry vegetation as fuel, and a thunderstorm on the night of Saturday, July 30, allowed the fire to rapidly spread northward towards Oregon. With this, came an increased risk for the local population, prompting a State of Emergency for Siskiyou County being issued by Gavin Newsom, California's Governor, along with the evacuation of almost 2,000 people. 
A second large wildfire, although on a slightly smaller scale than McKinley, also developed in another region of California. Starting a week earlier than McKinley, on July 22, 2022, the Oak fire burned areas of Mariposa County, near Yosemite National Park at the base of the Sierra Nevada Mountains. Oak is considered to be one of the most dangerous and unpredictable fires of this season, primarily due to temperatures reaching around 100℉, and generally dry conditions. By July 25, a mere 3 days after the start of the fire, 18,000 acres had already been burned, although the spread was slowed significantly by firefighters after that point. By early August, the Oak fire was nearly extinguished, with 96% containment by August 8. Despite this, the burning of about 20,000 acres occurred, including the destruction of 193 buildings, damage of ten, and the deaths of three firefighters as of the eighth. 
The fact that 2022 is such a large year for wildfires is nothing surprising for scientists, who have been tracking an upward trend in both the number of fires burning, and acres burned. Over the past decade, three seasons have had over ten million acres burned, with these peaks occurring in 2015, 2017, and 2020. 
What makes California more susceptible to fires than other states in the American West is that it has a longer wildfire season. This stems from the state's warmer average temperatures, which forces snow to melt earlier, particularly in mountainous regions, allowing this season to start earlier than neighboring states. This year is a particularly vulnerable one as well, with infrequent rain and drought-like conditions keeping the fuel for these fires, plants, and trees, especially dry, allowing fires to spread rapidly, becoming more difficult to contain. In order to prevent increasingly dangerous wildfires, we have to "adapt and mitigate future climate change," according to the director of the Center for Climate Communication at the University of California, LeRoy Westerling. Although fires are an important part of California's ecological systems, climate change has impacted conditions to make them excessively frequent and uncontrollable.