Results are in for Madison Snowplow Naming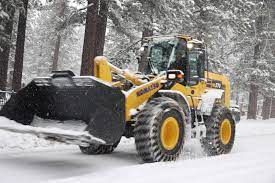 During January and February of 2023, our own city of Madison hosted a snow-plow naming contest for four new city vehicles: a quad axle brine truck, an MT7 trackless bike path plow, a loader with plow and wing, and a dual wing plow truck. The city requested submissions of 'punny' titles for the vehicles and ended up receiving a total of 1,200 propositions from January 3rd to 13th of this year. While Madison has named vehicles before, having the "Rosie the Rubbisher" trash compactor and "Stone Cold Squeeze Often" recycling compactor, this is the first time snow plows have been named. After initial ideas were submitted for the plows, the actual voting process occurred, with over 3,000 participating in a ranked-choice voting system, which the city hoped would represent the majority of the population's opinion and give all propositions a fair shot. 
For the quad axle brine truck, some of the early front runners of the competition included names such as Saltimus Prime, Brinestone Cowboy, Barbara Salters, Pavement Pickler, and Sweet Carobrine. As the rounds of voting progressed, however, the leaders of Saltimus Prime and Brinestone Cowboy became more apparent. Eventually, the competition ended with the quad axle being named Saltimus Prime, as the name won 1,630 to 1,436 votes. 
Another race, that of the MT7 tireless bike path plow, was barely a competition. The name of Snowbi Wan Kenobi began with a full 1,010 votes more than double that of other competitors. There were, however, some notable names in this race, including Austin Plowers, Plowdy Doody, Claire DeWay, and Aldo Leocold. By the end of the rounds, Snowbi Wan Kenobi had won handily with 1,910 votes to Austin Plower's 938. 
Oppositely, the loader with plow and wing was an extremely tight competition. Several propositions emerged early as potential winners, including Seymour Pavement, Scoopy Doo, Giannis Intent-to-Scoop Snow, and Fighting Bob La-plowit. As rounds went on, it became evident that Scoopy Doo and Seymour Pavement were to be the two finalists, as they switched spots for the most votes several times. Eventually, in an election almost too close to call, Scoopy Doo was defeated by just thirteen votes, as Seymour Pavement received 1,460 to Scoopy's 1,447. 
For the final race for the name of the double wing plow truck, the competition held a close resemblance to the quad axle brine truck. Top name Dolly Plowton began with a small lead of 543 votes to second place Blizzo's 440 but then ran away with the lead after subsequent rounds. Some popular names revolved around pop culture icons, such as Robert Plowny Jr. Justin Timberflake, and Wing Cosby. Others were just plain punny, like A Plow Me to Introduce Myself and Bring the Truckus. Eventually, Dolly Plowton handily won the name of the truck, winning by over 200 votes. 
While naming plows is all in good fun, Madison also had a more direct reason behind the voting process. Madison public information officer Bryan Johnson revealed that the election process was assisted by Wisconsin Salt Wise, an organization that hopes to prevent the causes of salt pollution in all types of water, an effort particularly important in lake-surrounded Madison. Johnson stated in a New York Post article, "our hope is that by next winter, we will have some baseball cards produced of the plow trucks with their silly names to have for residents with the backside containing information about how to use salt correctly." Salt affects our Madison community greatly, both in terms of our lake ecosystem and drinking water, so the naming contest was a great way to raise awareness for such issues.