Gun Laws Proposed in Michigan Following Second Mass Shooting
In response to the February 13, 2023, shooting at Michigan State University, where Anthony McRae, a 43-year-old, killed three students and injured five, Michigan Democrats have begun putting gun control laws as a foremost issue. This represented the state's second mass shooting in fifteen months and pushed legislators to quicker action than would otherwise have been expected. 
Following the 2022 elections of Michigan's legislature, Democrats took control of both the governorship and both parts of the legislature, the House and Senate. With this, hopes emerged for new legislation in the state targeting firearms, especially after the 2021 shooting of four in an Oxford high school outside of Detroit. Initial plans of such laws included universal, or near-universal background checks for the purchase of a firearm, gun storage initiatives, and red flag laws. While state Republicans have argued that such actions will degrade Michigan's economy, Democrats began pushing for such laws as soon as January, with efforts ramping up after the MSU shooting. 
The week of January 13th, it is expected that the Democratic party in Michigan will present eleven different bills as part of a gun safety package. These bills cover three primary aspects of gun reform, all of which are viewed by Democrats as the best ways to start combating the issue. First, Senate Bills 76, 77, and 78 would assist Democrats in expanding a licensing process, currently only used for pistols, to all firearms, assisting in security with assault rifle-type weaponry. Similarly, another set of these bills included arrangements for gun owners to force owners of firearms to keep their guns in secure locations, penalize those who don't and use incentives, such as tax reductions, on those who sell items for safe gun storage. The final aspect of these expected bills is some form of background checks, although if they are universal for the state or not remains to be seen. 
The majority of this legislation was drafted following the Oxford shooting in late 2021, where fifteen-year-old Ethan Crumbley killed four other students and wounded seven at the local high school using an illegal handgun his father had recently purchased. However, with Republicans controlling both the House and Senate at the time, little was done in terms of enacting gun control policies. Currently, Michigan laws have an age restriction of eighteen for rifles and shotguns, while the restriction extends to 21 for handguns from a dealer with a federal license. However, eighteen-year-olds can purchase handguns privately.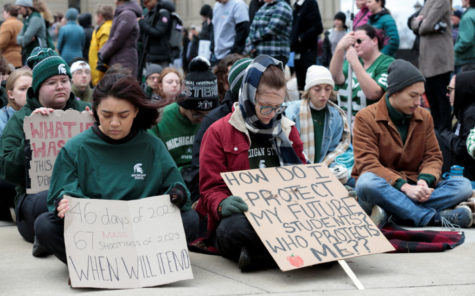 In response to the MSU shooting and the death of the three victims, Arielle Anderson, Biran Fraser, and Alexandria Verner, there was an increase in activism from those involved in both mass shootings. According to the AP, students and parents advocated for change, such as Reina St. Juliana, an Oxford High School senior who addressed legislators on March 2nd, saying  "I'm not asking for your pity. I'm asking for your change." Similarly, Krista Grettenberger, mother of MSU student Troy Forbush described a call she received on February 13th, the day of the MSU shooting, saying "My son called my cellphone and said: 'I love you mom. I've been shot. There's a shooter.'" While Forbush survived, he was critically injured, and this traumatic experience is what prompted Grettenberger and those like her to advocate for stricter gun control laws in the state. 
According to some Democratic legislators, it is expected that universal background checks and safe storage laws will be implemented even with some Republican portions of the legislature opposing them. Red flag laws, on the other hand, will be much more difficult to pass, as Republicans have argued for better enforcement of current initiatives rather than the creation of new ones. As was noted by the AP, Republican state Representative Luke Meerman said "If they don't pick up a gun, they could drive a car into a school. We need to try to find the mental health for these individuals. If they've had some kind of criminal history, we have to make sure that they're getting rig
ht sentences or that they're okay to come out of prison." In general, this debate over gun rights is and will continue to occur at both the state and national level, but with such large mass shootings so close together, along with a Democrat-led government, Michigan is likely to pass many of these bills in the near future.