Ohio Train Derailment has Large Environmental Impact on Locals
At about 9:00 p.m. on February 3, 2023, a Norfolk Southern train derailed in East Palestine, Ohio, which included 149 total cars, some of which contained toxic chemicals. On its way from Madison, Illinois to Conway, Pennsylvania, 38 of the train's cars derailed, resulting in a fire, which consequently damaged 12 more train cars. 
According to the initial report by the National Transportation Safety Board, the derailment was caused by an overheating wheel bearing, which began its climb in temperature in Ohio; yet, the train's systems failed to alert the crew until a sensor was passed close to the Pennsylvania border, at which point the wheel was 253 degrees Fahrenheit above normal temperatures. Responding to the alarm as quickly as possible, the crew began to break. However, this was not time enough to prevent the derailment, even though it avoided even worse damages. Following the initial derailment, between 1,500 and 2,000 of the total 4,700 residents of East Palestine were instructed to evacuate, along with families along the nearby Ohio-Pennsylvania border in a one-by-two-mile area as Ohio Governor Mike DeWine warned of a potential explosion.   
Although relatively few of the train's total load, only about 20 out of 150 cars, were carrying hazardous chemicals, the environmental damage of the Norfolk Southern train derailment is severe. Five of the cars that derailed contained 116,000 gallons of vinyl chloride, which has a "mild, sweet odor," and is a colorless gas according to the New York Times. Yet, the chemical can be used to create polyvinyl chloride or PVC. Based on data near PVC factories, the chemical can infect groundwater and air, which is dangerous, as according to the Agency for Toxic Substances and Disease Registry, exposure can result in disorientation, dizziness, and liver angiosarcoma, a form of cancer. In response to the derailment of the vinyl chloride, on February 6, 2023, local officials were instructed to burn the chemical, as it posed the risk of explosion. Vinyl chloride, when burned, decomposes into various gasses, such as hydrogen chloride and phosgene. While phosgene can cause simple coughing when inhaled, hydrogen chloride is corrosive to human tissue and thus the Environmental Protection Agency (EPA)has been searching for the chemical in local homes in order to reduce damage and evacuate families. 
There were also other chemicals released by the derailment, albeit in lower quantities than the vinyl chloride. One car contained ethylene glycol monobutyl ether, a colorless liquid used to manufacture varnishes and cleaning supplies. After some testing, it was found that prolonged exposure can result in headaches, vomiting, and general irritation. Similarly, Butyl acrylate causes difficulty breathing and skin irritation, the car of which was "lost" according to a report by Norfolk Southern. The final chemical car punctured by the derailment contained ethylhexyl acrylate again causing skin, respiratory, and eye irritation, and is used to create paints. The amount of this chemical released is unknown, however.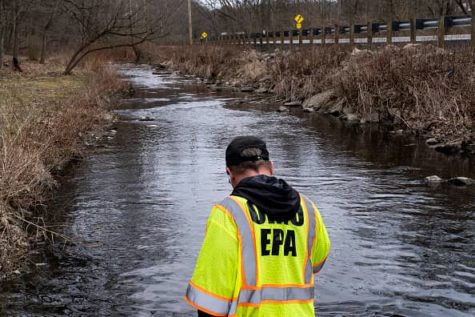 The EPA is now investigating and monitoring chemical levels in local air, soil, and groundwater. Since a report on February 12, 2023 revealed that there were no contaminant chemicals at "levels of concern," and after the EPA's testing of over 550 local houses, a change was made in the local status on February 21 from an "emergency phase" to a remediation phase. The EPA also instructed Norfolk Southern to help the community as well, not only with the identification and removal of contaminated natural materials but also to repay the EPA and attend public meetings in East Palestine. If Norfolk Southern refused, the EPA issued a statement saying that it would "seek to compel Norfolk Southern to pay triple the cost." 
In response to potential contamination, and since several areas use water from the Ohio River, screening took place of different regions of water. For example, the West Virginia subsidiary of American Water created a second intake site for water on the nearby Guyandotte River as a precaution if the Ohio River was detected to be contaminated. Similarly, the Evansville Water and Sewer Utility, a group in Indiana, began testing, along with many other smaller facilities along the river. While no contamination has been detected so far as in another state, surface water division chief of the Ohio EPA, Tiffany Kavalec stated that her agency did detect two chemicals in some tributaries of the river, and urged water treatment plants to filter these contaminants out. So far, the spill only impacted a small area, seven and a half miles, although it did kill around 3,500 fish, as was stated by the Ohio Department of Natural Resources on February 8th. 
While no residents were injured or killed, some residents reported dead animals, sickness, or smelling chemicals in the air. Visibly upset, two federal lawsuits have already been filed, including one class action lawsuit on February 15, which blames Norfolk Southern for worsening conditions by dumping 1.1 million pounds of vinyl chloride. The other lawsuit was filed by two individuals, who sued Norfolk Southern in order to force the company to pay for healthcare and monitoring for everyone within 30 miles of the derailment site. 
It is yet to be determined how large of an impact the derailment will have, as according to Senator J.D. Vance of Ohio, the incident is a "complex environmental disaster" and requires long-term studies. In terms of the lives of locals, the situation resulted in the loss of a valuable agricultural area, where it was a generational standard to buy land, raise animals, and farm. Lingering health effects can also be a major detriment that will take years to develop after the chemical spill.