Nevada Bear Destroys Inflatable Rudolph Decoration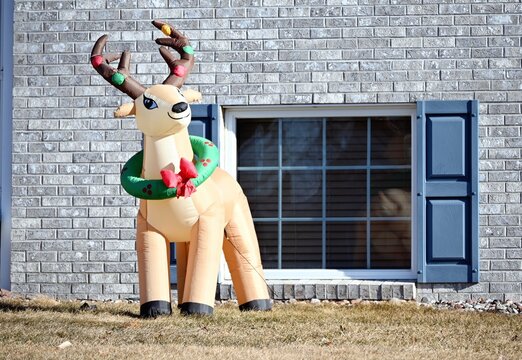 On Saturday, November 26, one of the last things that Dave Lester expected to see on his Ring security camera was a bear mauling his newly erected holiday decorations. A man from Zephyr Cove, part of the South Lake Tahoe area of Nevada, Lester lost a two-year-old decoration to the bear, as it was irreparably damaged by the bear's strike.
Luckily, Lester was relatively unphased by the situation, approaching it with an excellent sense of humor. In a Facebook post regarding the bear, Lester included the Ring video of the bear, which arrived in his yard around 5:00 a.m. and proceeded to attack the giant inflatable Rudolph the Red-Nosed Reindeer in the front yard. Along with the footage, Lester wrote, "Sad news, woke up this morning to Rudolph laying on the ground unresponsive. No amount of CPR or duct tape could revive him." Interestingly, the bear didn't spring for any of the other decorations either, it simply pounced on the Rudolph, walked around for a minute, and then left. 
Lester was also not surprised by the bear assault, as he noted that bears were often in the area, coming through on a path between the houses almost on a weekly basis. Also, he said that bears had been interested in his Christmas decorations in the year prior, but hadn't actually touched anything until now. In an interview with KTVU-TV, Lester again used his sense of humor, stating that "There were a couple stare downs last year but for some reason he just figured he was going to make a meal out of Rudolph." 
While Lester may have to buy a new decoration, at least he came out of the incident with a funny story, video, memories, and a generally positive attitude. 
Footage of the bear attack can be watched here.