The New British Prime Ministers
The United Kingdom has had three Prime Ministers in the past three months due to the resignation of first Boris Johnson, in September, and then Liz Truss, in October. Boris Johnson was the Prime Minister from 2019 until September 2022 when he resigned due to a series of scandals. Liz Truss was elected after Johnson's resignation. However, she served only a total of 44 days due to an economic crisis caused by her policies. After her resignation, Rishi Sunak was elected. He is currently serving as the first Prime Minister of color. 
Liz Truss has served as a politician since 2010 when she won a general election and entered parliament. From there, she served in many different positions throughout the British government. The most recent was Secretary of State for foreign affairs in 2021. After Johnson resigned, Truss decided to run. She won the election against Rishi Sunak with 57.4% of the vote. Soon after gaining office, Truss instated a proposal to cut taxes on the wealthy while raising corporate taxes. This led to a lot of hostility from her own Conservative Party. More importantly, it absolutely devastated the economy. The tax cut was estimated at 45 billion pounds over five years. The global markets responded to this by selling off UK-backed assets which brought the value of the pound to $1.03, the lowest it has ever been against the dollar. This caused the Bank of England to step in and purchase 65 billion pounds worth of bonds. The crisis led to Truss' resignation.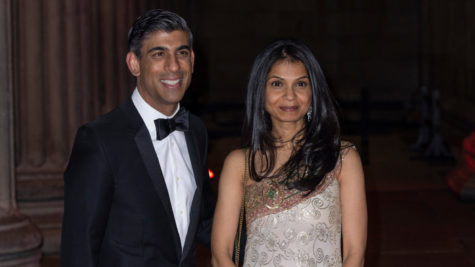 Rishi Sunak, Liz Truss' main opponent, was next in line to become the Prime Minister. He is the first prime minister of color, being of Indian descent. Sunak has an elite background as he studied at Winchester College, as well as Oxford and Stanford Universities. He worked for banks and hedge funds before going into politics. He is married to Akshata Murthy, the daughter of billionaire, Nagavara Ramarao Narayana Murthy, who founded an Indian multinational IT company, Infosys. Sunak and Murthy's combined net worth is $826 million. Sunak started his political career as a Member of Parliament in 2015. His first major role was Chief Secretary of the Treasury in 2019, appointed by Boris Johnson. He was promoted to the role of Lord Chancellor in 2020. During the pandemic, he put in place a $452 billion plan aimed at boosting the economy which left the government scrambling to find savings. Amid the Boris Johnson scandals, Sunak resigned which triggered a series of other resignations, eventually leading to Johnson's resignation. Rishi Sunak became the current Prime Minister of the United Kingdom on October 25, 2022, and he will hopefully provide some stability in leadership for the people of the United Kingdom.